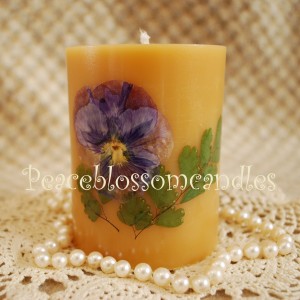 This pillar measures 3″ in diameter by 4″ tall. The 4″ candle is ON THE RIGHT of the three shown here. The price shown is for ONE 4″ tall candle.
The sides are completely smooth and I hand decorate each one with pressed flowers This picture is a great representation of what your candle might look like, but each one will be different since my stock of flowers necessarily varies. All are gorgeous! If you have certain color preferences, feel free to contact me and we can discuss the perfect color and flower choice for you.
This candle is made of fragrant Oregon beeswax and the wick is 100% cotton. This pillar looks really awesome anywhere in your home you desire the soft, warm glow of candlelight. The burn time is approximately 40 hrs.